Author: Thomas Girke
Last update: 04 July, 2016
Alternative formats of this vignette: HTML, .Rmd, .R
Overview
What is R?
R is a powerful statistical environment and programming language for the analysis and visualization of data. The associated Bioconductor and CRAN package repositories provide many additional R packages for statistical data analysis for a wide array of research areas. The R software is free and runs on all common operating systems.
Why Using R?
Complete statistical environment and programming language
Efficient functions and data structures for data analysis
Powerful graphics
Access to fast growing number of analysis packages
Most widely used language in bioinformatics
Is standard for data mining and biostatistical analysis
Technical advantages: free, open-source, available for all OSs
Books and Documentation
simpleR - Using R for Introductory Statistics (John Verzani, 2004) - URL
Bioinformatics and Computational Biology Solutions Using R and Bioconductor (Gentleman et al., 2005) - URL
More on this see "Finding Help" section in UCR Manual - URL
R Working Environments
Working environments (IDEs) for R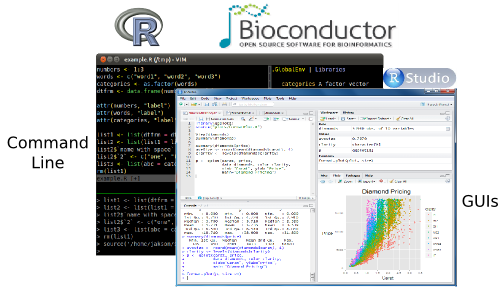 R Projects and Interfaces
Some R working environments with support for syntax highlighting and utilities to send code to the R console:
RStudio: excellent choice for beginners (Cheat Sheet)
Basic R code editors provided by Rguis
Vim-R-Tmux: R working environment based on vim and tmux
Example: RStudio
New integrated development environment (IDE) for R. Highly functional for both beginners and advanced.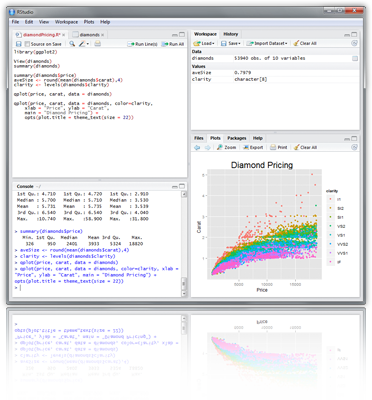 RStudio IDE
Some userful shortcuts: Ctrl+Enter (send code), Ctrl+Shift+C (comment/uncomment), Ctrl+1/2 (switch window focus)
Example: Vim-R-Tmux
Terminal-based Working Environment for R: Vim-R-Tmux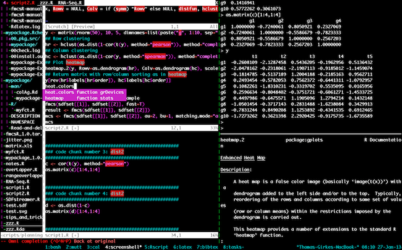 Vim-R-Tmux IDE for R